Quote:
Originally Posted by
Hagär
Hello all!

Signed up for the forum a few days ago as I'm on the hunt for more information on mods and upgrades.


Grew up around motorcycles (Dad has been riding for 50ish years) so I couldn't stay away. Years ago I got myself a V-Star 650 Midnight Custom to learn on and upgraded last year to a 2014 Stryker. LOVE THIS BIKE!


So far I've got the Vance & Hines twin-slash staggered exhaust and (not shown) 3" forward controls extensions installed. Hoping to be getting some new bars/risers soon, then intake & a power/tuning module of some sort. Maybe eventually the 240 rear tire but one thing at a time.
Welcome! Don't waste your money on a fuel programmer, either spend the money on a custom dunk tune or look into
www.Ivansperformace.com
you send in your ECU and he downloads the program as well as removes or adjusts other parameters that make the bike much more fun to drive.
If your on Facebook look up Stryker page most of the guys are on there and will give a quick answer. I prefer the forum as I'm old.
__________________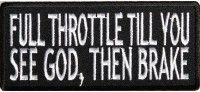 For as the body apart from the spirit is dead, so also faith apart from works is dead (James 2:26) ESV