Quote:
Originally Posted by
gene768
Just had recent maintenance, would hope theyíd tell me if any issues with air cleaner or plugs. One concern I had was a lot of rust around wires by the steering but the shop said itís not an issue. Iíll have them check fuel pump next time.
You may hope they even looked at stuff but 95% of shops suck! I haven't found a good one in my 30+ years of riding.
Ok by recent maintenance, are we talking oil change? Valve adjustment, steering adjustment, coolant flush, brake fluid flush, Air filter replaced plugs replaced how many miles on the bike?
__________________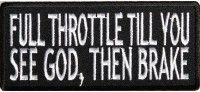 For as the body apart from the spirit is dead, so also faith apart from works is dead (James 2:26) ESV