I just have to say, other than the last couple hours of the trip home, this trip was pure awesome. My wife surprised me with VIP motorcycle in-field parking, tower terrace seats right next to the podium, and a parade lap pass for our 5 year anniversary. She is just awesome. I got to take my bike for a lap on the actual track and even left a little bit of my bike behind... lol.
Here is the video for now while I go through all 800+ pictures and pick out a few to post... don't mind the slightly homosexual squeeling in the video. I was giddier than a school girl the whole time. lol.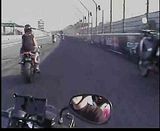 And the "aftermath" on the bike... love every bit of it.