Quote:
Originally Posted by
seattleite11
I have 2x2 pipes with no crossover, (V&H twin slash staggered) so having two O2 sensors make sense, but I don't understand why disconnecting the stock O2 sensor would make it perform so badly. Is there some way to tell my bike not to look for a signal from the stock O2 sensor anymore?
I understand that as those pipes I run also, and technically and logically you want to have a sensor on each cylinder to properly measure output, but for practical reasons (as most don't have capabilities to weld or modify correctly) or no one wants to chop up their $600 pipes, to make a $500+ programmer work, not to mention the only way to remove the stock O2 from the stock ECU is to get it tuned professionally, IE Ivan.
__________________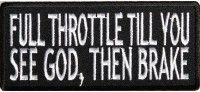 For as the body apart from the spirit is dead, so also faith apart from works is dead (James 2:26) ESV