Discussion Starter
•
#1
•
I got this 6/29- and loved it until this last ride in the rain. I noticed while doing a quick detail that it had bunch of condensation in it. I didn't have this with the stock tail light so, looked for cracks or something found nothing. Emailed Custom LED sent pictures also and asked if it was under warranty?
:tsk: BTW it is still working so far.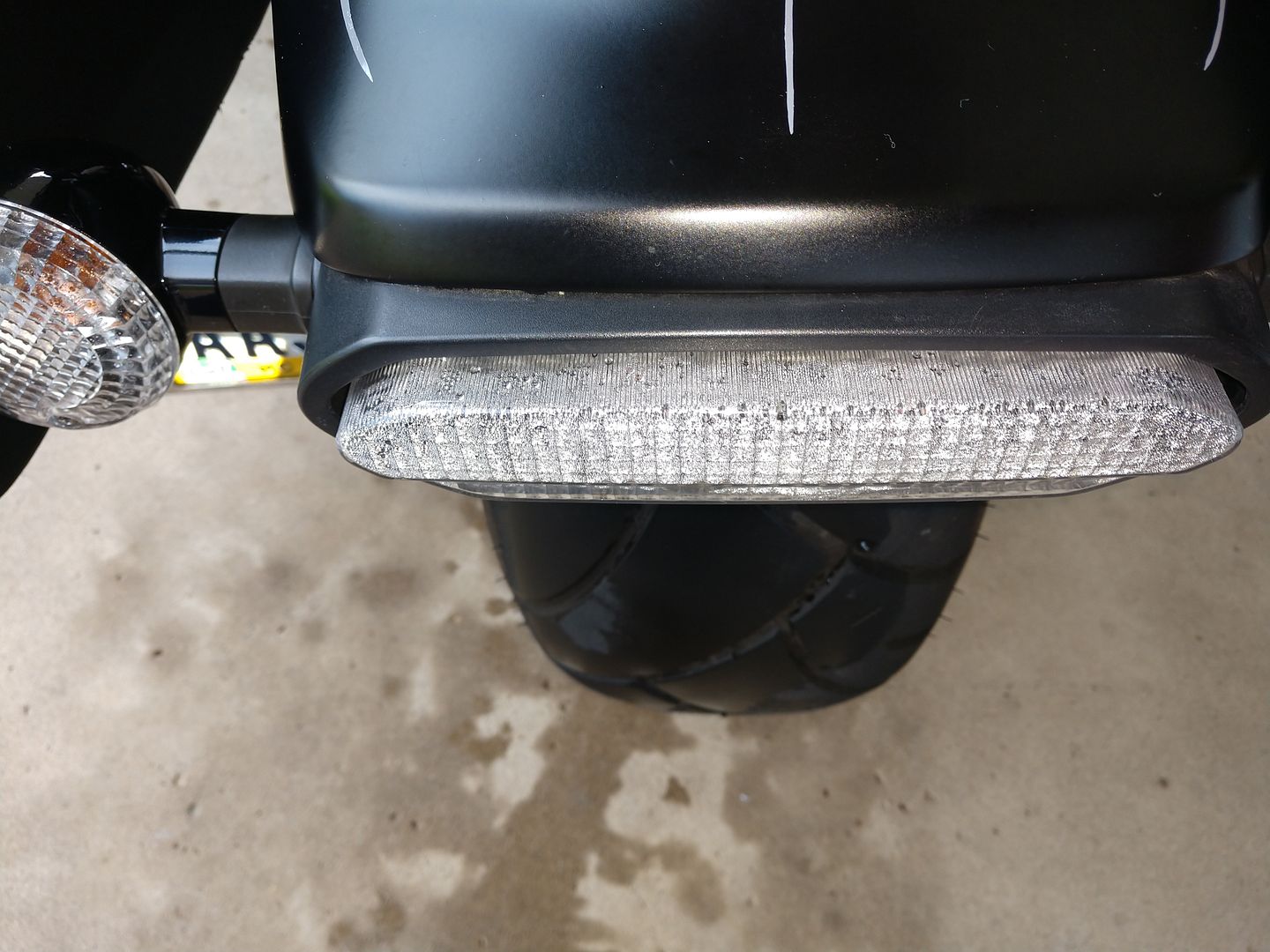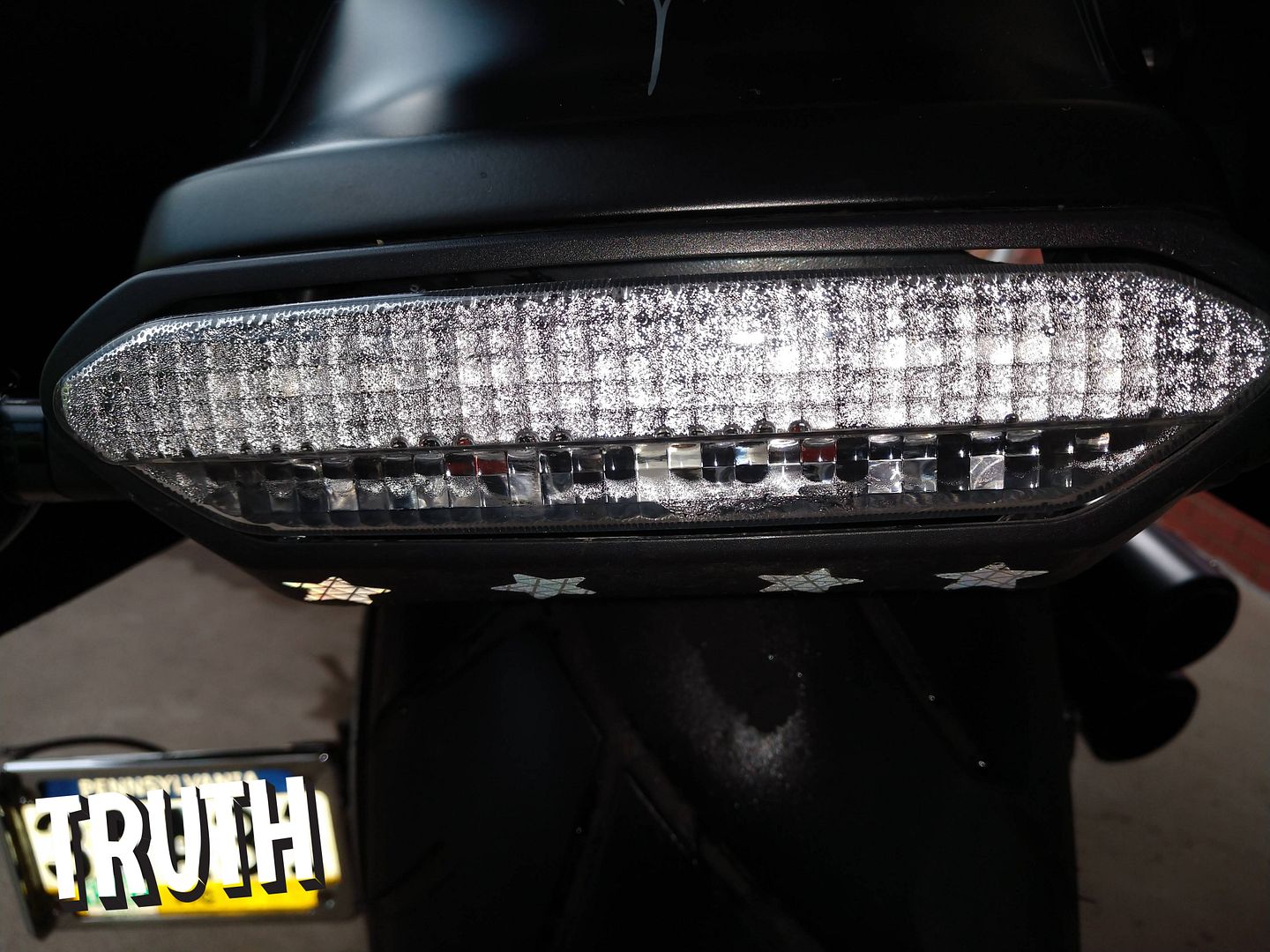 Here is their response:
Hi Bob,
Certainly if there is a manufacturing defect that caused the water to get in there, we will be happy to replace the tail light for you. However, the water infiltration issues we see on the Stryker/Warrior/Raider are due to an improper/modified fender assembly. The OEM fender assembly shields the tail light from tire-spray when riding in the rain. With a modified or removed fender liner, when riding in the rain the tail light becomes effectively submerged in water, and water eventually finds it's way through the grommet where the 6 wire penetrations are.
We have a bold line in the installation instructions regarding this as follows: NOTE: THIS TAIL LIGHT IS NOT WATERTIGHT. FAILURE TO USE THE OEM FENDER-LINER MAY CAUSE WATER TO INFILTRATE INTO THE TAIL LIGHT, AND CAUSE FAILURE.
OK, so here's the good news. If you caught it early there probably isn't must damaged or corrosion to the circuit board itself. Like I said earlier, if we messed up the glue-seam and that's how water is getting in I'd be very happy to replace the tail light for you. If it's not a manufacturing defect, we offer a $20 refurbish service that will cover a new lens, bucket, and harness. We will open up your unit, dry it out, and replace everything except the circuit board.
You will almost certainly need to address the tire-spray issue by way of adding a fender liner of some sort. Some guys have decided to silicone the wires entering the tail light as well which may work for some time. However, even the stock tail light will get water in it if you put it in a bucket of water, so the best solution is to shield the unit from water.
In order to expedite the refurbish turn-around of your item, please follow the instructions below carefully.
Please print-out your eMail Order Confirmation for the Refurbish purchase (not this eMail). The Order Confirmation is automatically sent to you after you successfully check-out on our website. This confirmation eMail contains your order number, address, and the item(s) you purchased from our online store.
Please carefully package the tail light and ship it to:
Custom LED
Attn: Refurb
265 Ridgewood Blvd N
Township of Washington, NJ 07676
We recommend that you ship VIA USPS Priority Mail, as it carries $100 of insurance automatically, and it is typically a 2-3 day service from anywhere in the USA. You can purchase Priority Mail postage online at https://cns.usps.com, or at your local Post Office.
Typical turn-around time is 1-2 business days from receipt. We will return-ship the refurbished item VIA the shipping method you chose at checkout. If you should have any questions, please do not hesitate to ask.

Jon
Owner
So I still have the stock fender liner but mine is modified (removed the license plate attachment) . I feel this shouldn't of happened for as much as these cost- and haven't heard of any other users having this issue. So any one else have condensation issues with Blaster X tail light?
Other than this issue, I loved the function of it with the stock turns.
So for those with modified mud/plate flap, who ride in wet weather even once- I wouldn't recommend this product at all. This week is suppose to be a wash out so I will remove the light and install the stock one decide whether to send back this one and see what there response will be on replacement or refurbish. I really may just go with the Low and Mean option and put my strobe relay back on. As I feel it's just going to happen again the next ride I get caught in rain.