For my first trick... I mean post..... I'll be writing up a brief quick tip guide for the Power Commander V Autotune on a bike with the stock exhaust set up. This will include everything I could remember from the install that I wish I'd explicitly known before hand.
There are plenty of threads about which tuner is best for you, and a few threads about installing the Autotune on different exhaust systems, but there are no write-ups (that I could find, at least) for installing on the stock exhaust system.
Why install the Power Commander/Autotune combo on a bike with no exhaust or intake modifications, you ask?
I had X-amount I was willing to spend on mods to get started, and was a little nervous about running new exhaust without the tuner set up- I know it wouldn't destroy the bike, but I'm just more comfortable doing the mods in this order. BUT, this thread is not for discussing that issue.
I'll try to keep this BRIEF, not going to get too technical on all of it.
Remove the exhaust system, being careful not to strip out the three black bolts holding on the muffler. On my bike these were EXTREMELY tight, I burnt through two battery charges on an electric impact wrench, and finally got them after two hours (and one almost stripped head) by using an 8mm socket wrench attachment.
Horrible quality pictures, but showing the general area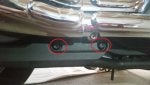 I have the forward extensions on my footpegs, which gave me room to remove the pipe for the front cylinder. If you do not have these extensions, you may need to loosen your right footpeg from the frame a little bit. I don't think it's absolutely necessary to remove this front pipe, but I found it gave me a lot more freedom when test fitting the rear y-pipe later on.
Do yourself a HUGE favor, wrap the exposed radiator and/or frame with tape, or a clean rag such as I did. You WILL bump this with the front exhaust pipe at least once, that I can promise you.
Plan location for the wide-band O2 sensor, I put mine on the back side of the rear exhaust pipe, and drilled/cut a hole in the black shroud right behind it. YES, YOU NEED TO KEEP THE STOCK O2 SENSOR AS WELL. There are other threads explaining this.
EFI bikes have similar enough O2 readings between the cylinders that having the wide-band O2 sensor on one of the pipes (as opposed to in a collector area or having one sensor on each pipe) does not make a huge difference. Your bike will not explode.
Mark the pipe where you want the bung welded in and either install it yourself, if you're so inclined, or take it to an exhaust shop. Some people had there's installed for ~$10, the shop I took mine to charged me $30. They have a skill that I do not, I don't mind paying extra for them to use that skill to my benefit.
When drilling the hole, I used a step drill that I found in my yard covered in rust, and that worked just fine for me. You may need to expand the hole toward the rear of the bike a bit with a dremel, box knife, or Carrie Fisher's coke nail from Return of the Jedi- it's probably available for sale online somewhere, she HAS to have cut it by now, right? Really any sharp object will do.
Test fit the y-pipe part of the exhaust with the black shroud in place and wide-band sensor installed hand-tight. Extend the hole in the shroud until you can easily install the y-pipe, including a little wiggle room, without cursing the Bike Gods or scratching/bending anything.
The wide-band sensor connector can run up to the reserve tank that's hidden behind the side cover. At the top of this picture you'll see it tucked in there, I used some extra velcro pads to attach it to the front of the reserve tank, and used a small zip-tie to hold the velcro to the connector, as it's an odd shape.
The extra wire going to the autotune is just coiled up and zip-tied, then placed on top of the reserve tank, sitting loosely for now- I may make it more secure if I come across any problems with it in the future.
I cut the battery tray so I could comfortably fit the autotune and PCV in there without having to bend the wires to run them out. It may not look pretty, but it's under the seat, so whatever.
This is fairly soft plastic so, again- drill, dremel, box knife, coke nail, you get it.
They provide a ring lug you can use to connect the black wire to the negative post of your battery, and some wire tap thingies you can use to connect the red wire to a switched 12v source.
The easiest 12v source I found was the tail light running wire. Locate the little black fuse box on the left side of the battery housing, press the tab so you can pull it out, and tap into the blue wire connected underneath.
The autotune will now receive power whenever your ignition is in the on position.
Everything buttons up nicely, looks clean, and runs well.
Plug in the supplied cable between the PCV and autotune.
Capt_Zoom has a detailed write up on proper use of the autotune here:
http://www.yamahastarstryker.com/20-how-tos/854-how-use-pcv-autotune-create-good-map-reduce-backfiring.html
Good luck, if you have any questions, I will try to answer, but I'm just a moderately intelligent guy faking my way through things as I go along, and common sense is always the best guide.
Any suggestions about my bike, this install tip guide, or edits, please post and I will do my best to respond or edit.
Thanks!