Discussion Starter
·
#1
·
Go Pro HD Hero2 Motorsports Edition Camera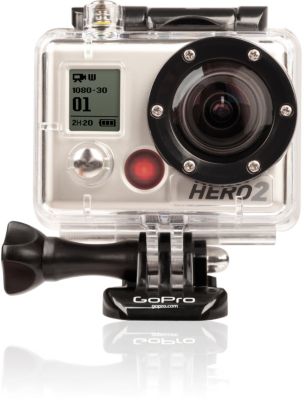 GoPro cameras are used by more motorsports professionals, race teams and core enthusiasts than any other camera in the world. The HD HERO2: Motorsports Edition is the most advanced
http://www.motosport.com/dirtbike/go-pro-helmet-cameras"]Go
Pro helmet cam[/URL] yet. Wearable and gear mountable, waterproof to 197' (60m), capable of capturing professional full 170º wide angle 1080p video and 11 megapixel photos at a rate of 10 photos per second, the HD HERO2 is the world's most versatile camera. Whether your goal is to capture footage of a spirited rip through backcountry roads or you want to capture and study lapping footage to learn how to set a new track record, the HD HERO2: Motorsports Edition is going to be one of your favorite motorsports purchases of all time.
Included are mounting accessories you're most likely to use during motorsports activities.
Inside the Box:
1 11MP HD HERO2 Camera
1 Waterproof Housing (197' / 60m)
1 HD Skeleton Backdoor
1 Rechargeable Li-ion Battery
1 USB Cable
1 Suction Cup Mount
1 J-Hook Buckle
2 Curved Surface Adhesive Mounts
3 Flat Surface Adhesive Mounts
1 Three-Way Pivot Arm
Assorted Mounting Hardware
Note: SD card not included
MotoSport.com Price: $249.99
Go Pro WIFI Combo Kit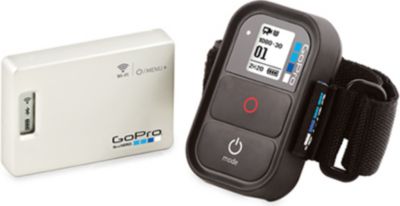 Live from your GoPro - Control. View. Share. Wi-Fi enable your GoPro camera (original HD HERO and HD HERO2) with the
http://gopro.com/hd-hero-accessories/wi-fi-bacpac/"]Wi-Fi
BacPac[/URL] and Wi-Fi Remote.
Wi-Fi Remote:
Control up to 50 cameras a time from up to 600'/ 180 meters away with the Wi-Fi Remote.
Enjoy full camera control, including on / off, shutter and settings control.
LCD screen mirrors your camera's status LCD screen.
Attachment strap, key ring, and charging cable included.
Waterproof to 10' / 3 meters.
http://gopro.com/"]GoPro App[/URL] + Smartphone or Tablet:
Use your smartphone or tablet as a live video remote control.
Enjoy convenient live video and photo preview and playback.
Wi-Fi transfer your favorite videos and photos from your GoPro to your smartphone or tablet and share with friends.
Use your smartphone as a hotspot to live stream video and share photos and videos to the web.
Live Streaming and Sharing Directly from Your GoPro:
Live stream video or share photos and videos directly to the web from your GoPro, wherever you have a network connection.
What's Included:

Wi-Fi BacPac (with built-in Li-ion battery).
Wi-Fi Remote (with built-in Li-ion battery).
Remote charging cable.
Remote attachment key.
Remote attachment strap.
Waterproof backdoor.
Non-waterproof backdoor.
12" USB charging cable.
MotoSport.com Price: $99.99