Discussion Starter
·
#1
·
Difficulty Level: 1.5/10
Tools Needed:
5mm Allen Wrench/Bit
T-30 Torx Tamper Proof Bit
10mm Wrench/Socket
Jewelers flat head screwdriver
WARNING: If you performing this mod you will lose the auto-cancelling feature!
The stock signal light relay is designed to flash at a DOT approved rate when it has the resistant of two bulbs. If one of the bulbs is removed or burns out it flashes at a much faster rate to bring to your attention that something is wrong with a turn signal. Sounds and works great until you replace your turn signals with smaller lower resistance bulbs or very low resistance LEDS. When this is done the stock relay will see this reduced resistance as a problem and flash at a very fast rate. While some think this is cool or draws attention I think it only draws the wrong type of attention from law enforcement as everyone knows a fast flash rate is signal light problem. Best case they ignore you, worse case they use it as an excuse to pull you over and discuss your none DOT lights ect… because I don't like a fast flash and want to avoid LE attention I decided to give this a go.
There are two choices to fix this problem. The first is the often discussed and recommended flash equalizer and the second is replacing your turn signal relay with a constant rate turn signal relay.
Option 1 - Flash Equalizer
The flash equalizer is just a resistor that you add to your signal light wiring. This resistor gives your relay the same resistance as the light bulb and makes it flash at the correct rate. After some research I don't like them for a few reasons.
1. Good ones with heat sinks like those offered by ChromeGlow are expensive.
2. Cheap ones tend to burn out
3. Resistors get hot
4. Harder to install than the replacement relay
5. Increases the number of parts
6. Often two are needed – one for left and one for right
7. Sometimes you have to add two of them when front and rear signal are both LEDS. See problems above X 2. If you have separate left and right units it could mean 4.
Option 2 – Preferred – Replace stock relay
The second choice is to remove your stock relay and replace it with an electronic flasher relay that flashes at a
set rate regardless of resistance (0 bulbs or 10 bulbs).
I prefer this because
1. Number of parts stays the same and nothing is added
2. Easier to install
3. Much cheaper
4. Nothing to do regardless of how many bulbs are replaced or added.
Anyway I prefer option 2 so on with how to install on a
2011/2012 Yamaha Stryker.
Step 1
– Purchase replacment relay.
-Go to your local auto store and buy a 3-Pin electronic flasher relay or
-Go on eBay and search for 3-Pin Electronic Flasher Relay
-Either way it should cost you about $5-$15.
Step 2
– Use your key to remove the seat.
Step 3
– Remove the Left side cover with a T30 Torx bit. I already replaced my Torx bit with a regular 5mm allen bolt so thats what I used. Then remove the 2 bolts holding on the seat latch plate with a 10mm wrench and remove the 2 bolts holding the latch itself to the plate. You can then easily fish out the seat latch cable allowing you to completely remove the side cover. I also found it easier to remove the fuse box from its mount, just to give you a little more room.
Step 4
– Locate the relay which is on a bracket located on the left side in front of the battery and pull it up to remove it.
This is the bracket with the relay removed.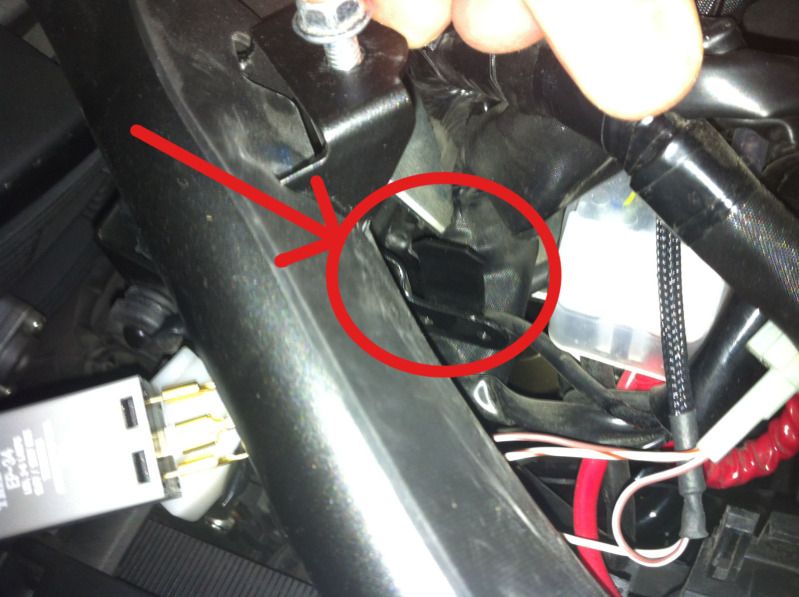 Step 5
– Confirm you have the right relay (see photo). Double confirm by unplugging relay and check to make sure turn signals
don't
work.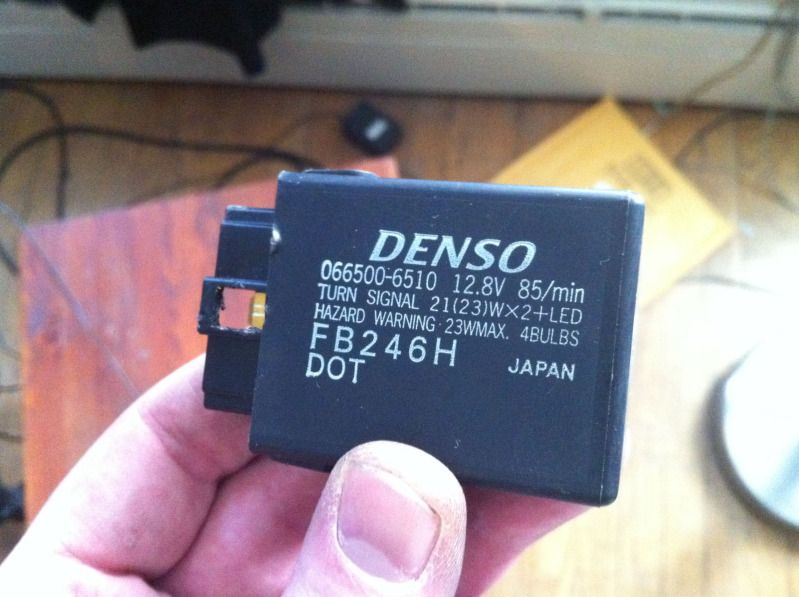 Step 6
– (NOT NECESSARY but makes life easier) Remove white plug from the relay. Use a small jewelers flat head screwdriver bend back--one at a time--each tab holding each wire inplace inside the stock connector. (You can also just cut it off if you wish).
(These connectors are usually a PITA and I usually end up cutting them off, but this one seems to be easier)
Step 7
- Test new relay. Check the packaging or relay itself to determine which pin is (+) which is (-) and which is (L) or "Load".
- If you did not cut the white connector off you will already have "ready to go" female connectors.
- Brown wire to the (+) terminal
- Black wire to the (-) terminal
- Brown/White wire to the (L) terminal
- Yellow/Red wire is not used.
- White wire is not used.
- Everything Works continue to Step 8
- Nothing works double check your pin assignments (+) or (-) and all the connections. Repeat Step 7
- Still nothing works, the new relay may be bad (it happens) Return to step 1
Step 8
- Once you're sure everything works you can now either use some black tape or heat shrink to protect the exposed ends
- The Yellow/Red wire and the White wire are not used so fold them up out of the way and use either some black tape or heat shrink to protect the exposed ends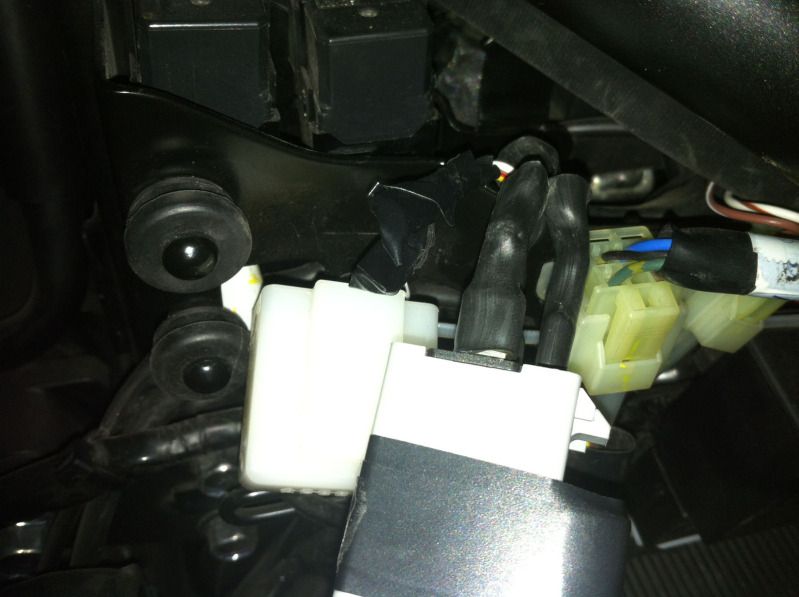 Step 9
- Test your turn signals for proper opperation.
Step 10
- Remove the rubber holder from the stock relay and wrap tape around to hold it on the side of the new relay.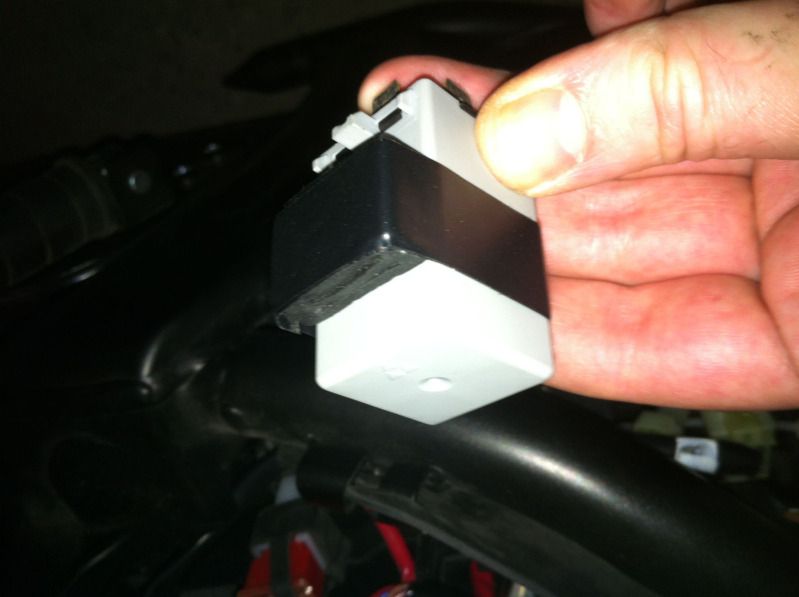 Step 11
– Make sure all connections are secure and put relay on stock holder post.
Step 12
– Reinstall seat latch, left side cover and the seat.
Step 13
- RIDE!!!!
Should cost under $15 and take about 15 minutes.