Discussion Starter
·
#1
·
BRIDGESTONE BATTLAX HYPERSPORT S20 TIRE COMBO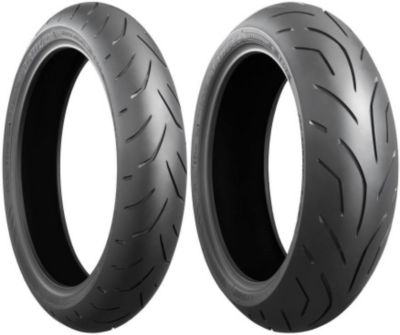 The BRIDGESTONE BATTLAX HYPERSPORT S20 TIRE COMBO includes one Front and one Rear
Bridgestone
Battlax S20 Tire in your choice of available sizes.
The new S20 gives riders sportier handling and more confident cornering thanks to its new pattern and MotoGP construction technology.
Provides strong grip with new compound that works in a wider range of temperatures.
Tire features quick warm-up, even in low temperature conditions.
Better wet performance than BT-016 PRO due to new pattern and compound.
Optimized tread compounds (3LC- dual compound).
Optimized contact area.
Optimized compound performance.
Wide range compound.
Wet grip improvement.
Performance and High Mileage maintained.
Straight center grooves improve cornering at low lean angles, especially at turn-in.
Side grooves on shoulder improve contact feel at higher lean angles, plus wet and dry grip.
Improved initial grip by maintaining contact area at the all lean angles.
Our Price: $219.99
Retail: $381.99
You Save: $162.00 (42%)
MICHELIN POWER ONE TIRE COMBO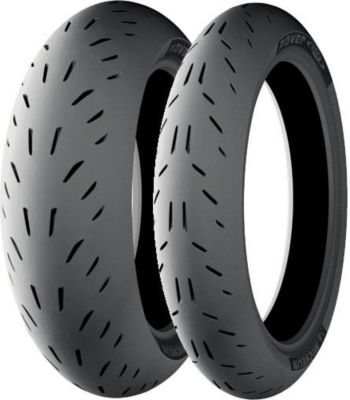 Three years in development,
http://www.michelinmotorcycle.com/index.cfm?event=powerone"]the
new MICHELIN® Power One™[/URL] range is the product of true torture testing, covering more than 80,000 miles, some 35,000 laps, on over 30 circuits around the world. Under the relentless pace of more than 130 different test riders, on both production bikes and 200-horsepower race bikes, 350 different prototype
http://www.motosport.com/motorcycle/tires"]motorcycle
tires[/URL] were evaluated in more than 116 tests, to help deliver winning potential in every race. No matter what your ambition, you'll find the ideal tire in the MICHELIN® Power One™ range, whether it's for track days, a local race series or a national championship.
Two Compound Technology (2CT): Four all-new tread compounds (two for the front and two for the rear) help to dramatically improve damp / wet grip, warm-up time and low temperature performance, compared with previous MICHELIN® tires. These new tread compounds were optimized for the demands of on-road sport riding and track days, with high levels of performance throughout a wide range of temperatures.
Synthetic Component Technology (SCT): MRSE (Michelin Racing Synthetic Elastomers) compounds combined with HTSC (High Tech Synthetic Compound) resins, help promote ultra-fast warm-up and outstanding grip.
Near Slick Technology (NST): Tread grooves cover only 5% of the tire's surface, helping to maximize rubber contact with the track. The resulting traction helps facilitate lean angles approaching 60°.
Construction: Power One™ tires incorporate three plies: two nylon casing plies and one Aramid tread ply. The use of nylon and Aramid (as opposed to other materials like steel or polyester) provides the opportunity to maximize stability and performance while minimizing overall tire weight. The Power One™ tires' architecture was designed for a balance between high-performance handling, durability and grip.
Our Price: $344.99
Retail: $545.99
You Save: $201.00 (37%)
BRIDGESTONE BT016 TIRE COMBO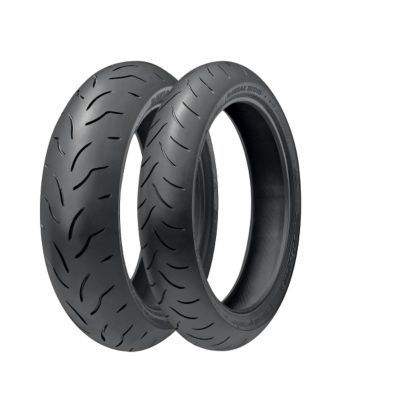 Ultra-high-performance radials designed to maximize the performance of all sport bikes on the road today.
New multi-compound technology derived from from MotoGP delivers the grip performance demand in every aspect-braking, maximum side grip in cornering, and strong traction at the exit of a corner.
Front tire features dual compound (3LC) to provide grip in all riding modes. The center compound offers linear handling while the shoulder compound secures high grip and solid contact feeling.
The rear tire's L-shaped grooves enhance shock absorption and rear end steering. Groove location not across trad center area provides both wet performance and strong traction. High-speed durability is maximized.
Z speeds rated.
Tubeless.
Wheels not included.
Our Price: $224.99
Retail: $405.99
You Save: $181.00 (45%)
DUNLOP D404 TIRE COMBO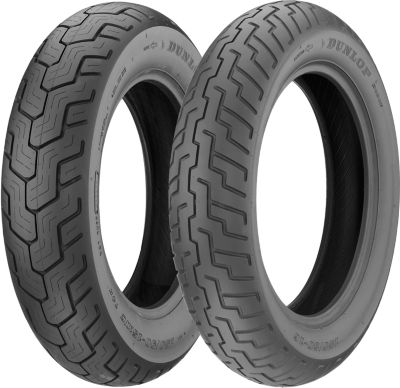 Tread compound delivers excellent balance of mileage and grip.
Front and rear tread patterns designed to deliver outstanding water evacuation and wet grip.
Bias-ply construction designed to deliver excellent load carrying capacity as well as a smooth ride for maximum comfort.
Offset center groove delivers excellent straight-line stability.
Value-priced for a wide range of motorcycles.
Our Price: $154.99
Retail: $241.99
You Save: $87.00 (36%)
http://news.wyotech.edu/post/2007/12/motorcycle-tires"]Tips
for buying motorcycle tires[/URL]
Shop now:
http://www.motosport.com/"]Motorcycle
parts online[/URL]