Discussion Starter
·
#1
·
Shoei X-12 Glory 2 Helmet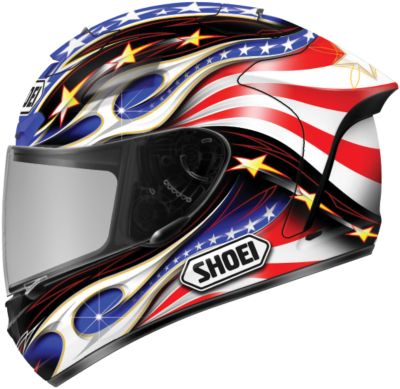 Born from racing, the all-new
X-12
combines
http://www.motosport.com/dirtbike/shoei-helmets"]Shoei
helmets[/URL] 50 years of helmet building experience with the very latest technology and most advanced materials to bring you the racing helmet of the future.
Quick Release Self-Adjusting Base Plate System: Patented new spring-loaded technology eliminates the need to adjust base plates for proper sealing.
CW-1 Shield: Wider and taller than the CX-IV that it replaces.
AIM+ Shell Construction: Combines fiberglass with organic fibers so strong they can only be cut with a laser. The end result is a stronger, lighter shell that will absorb and distribute the force of an impact safely and efficiently.
5 Shell Sizes: Industry-leading five shell sizes to ensure a custom fit for heads between the sizes of XS-XXL.
Aero Edge 2 Spoiler: Minimizes lift and wind drag at high speeds from the rider and motorcycle. In addition, increased negative air pressure improves exhaust performance to help ventilate the helmet.
Ventilation System: Five (5) intake and ten (10) exhaust vents, the most aggressively ventilated helmet ever produced. New Side Extractor Vents developed by Shoei's MotoGP racing service to help clear warm, humid air from the racer's face.
Dual-Layer EPS Liner: Enhanced impact absorption by adjusting thickness and density in key areas. Inner liner features air channels for efficient cooling. Impact-absorbing EPS liner throughout the entire chin bar.
3D Max Dry Interior System: Fully removable, washable, and replaceable 3D Max Dry liner proven to absorb and dissipate sweat two-times faster than traditional nylon interiors.
E.Q.R.S. (Emergency Quick Release System): Mechanical tabs disengage cheek pads for easy removal by emergency medical personnel. Helmet can be removed with minimum load to rider in emergency situations.
Chin Curtain: Reduces wind turbulence and noise.
Standards: Snell M2010 and DOT
Warranty: 5-Year
MotoSport.com Price: $729.99
Shoei Qwest Passage Helmet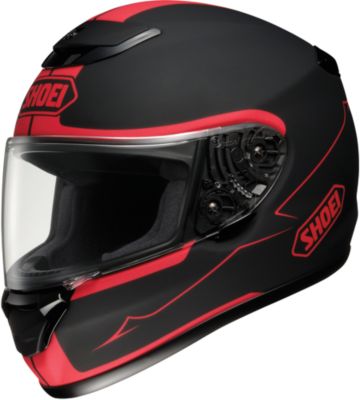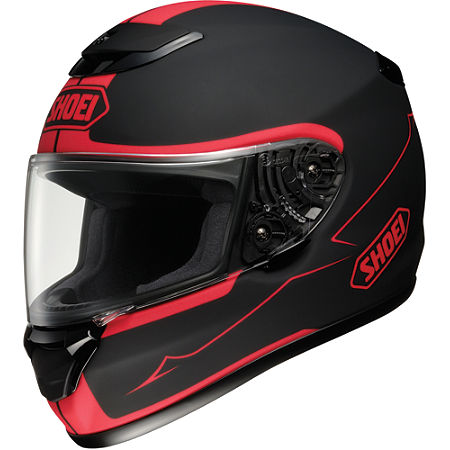 Aerodynamic Shell Design
Aerodynamic properties are maximized through extensive wind tunnel and professional riders feedback.
Dual Layer EPS liner enhances impact absorption and ventilation.
Five shell and six EPS liner sizes present increased fit options that help to comfortably fit most head sizes.
Molded air spoiler to reduce drag and lift as well as diminish weight pressure on the neck while riding at high speeds Ventilation System.
Upper Air Intake Vent is positioned to maximize air volume into the helmet interior.
Large upper intake vent positioned to maximize performance in high wind conditions.
Easy to operate large lower intake vent.
Lower air intake/defroster vent reduces shield fogging and increases ventilation.
The rear/neck outlets allow for effective air exhaust.
Breath guard and chin curtain included Lightweight Advanced Integrated Matrix Plus (AIM+).
High performance fiber materials are combined with extremely elastic organic fibers to create a shell structure that is ultra lightweight, rigid and resilient Interior System.
3-D center pad and multi-layered, polyurethane foam cheek pads.
Cheek pads are replaceable or removable for maintenance.
Eyeglass compatible interior Standard Chin-Strap Clip.
Neatly secures chin strap CW-1 Shield and Q.R.S.A. System.
Q.R.S.A. (Quick-Release Self-Adjusting) base plate allows for tool-less shield removal and installation. The spring-loaded base plate (U.S. patent pending 11/799935) pulls the shield back to contact the window beading evenly and ensures a proper seal.
The CW-1, three-dimensionally curved shield is both wider and taller than the CX-1V it replaces.
Optional, CWF-1 two-dimensional Pinlock equipped racing shields with tear-off posts are available.
Scratch-resistant coating.
99.9% protection from harmful UV A & B rays.
Optional, CW-1 Pinlock prepared shields are available to accommodate Pinlock Fog Free Inserts.
A pre-set lever can easily lock the shield in place to prevent the shield from opening unexpectedly, as well as prop the shield open to increase airflow.
TECHNICAL INFORMATION
Standards:Snell-M2010, DOT
Construction:AIM+ (Advanced Integrated Matrix Plus Multi Fiber)
Weight:3.644 lbs / 1,653 grams (approx, for Size Medium Solid Color)
MotoSport.com Price: $444.99
Shoei Hornet DS Helmet
Designed for the adventure touring and dual sport market, the Shoei helmet Hornet-DS can be used in three configurations: with visor and shield, with just shield, or with just visor.
A wide, three dimensionally curved shield completely seals against the eyeport beading.
Lightweight AIM+ (Advanced Integrated Matrix Plus Multi Fiber) shell is top of the line for http://trafficsafety.org/safety/sharing/motorcycle/motor-safety-everyone/motorcycle-helmets-for-all-riders"]motorcycle helmet safety[/URL].
Visor includes a front air intake to channel air into top of helmet.
Shutter behind nose cover directs air flow to clear shield fogging.
Fully removable 3D interior, with five layer cheekpads that are channeled for eyeglasses.
Built-in breath guard; chin curtain included.
MotoSport.com Price: $459.99 - $489.99