Discussion Starter
·
#1
·
I have been working with a company for about 2 months to get the extensions made. A friend (used to be a member here) provided them some measurements almost 1.5 years ago but for some reason the threads were about .003 off. I ended up sending them a fork cap so the machinest could get the measurement perfect. They worked perfectly and went in without any problems.
The install was failry easy by removing stock fork caps, screwing in the extensions, loosening the triple tree clamps and sliding the forks down. All the control cables reach and the front brakeline still fits, but it is pulled a little tight.
The seating position seems more comfortable and little more kicked back. The pegs don't scrape as easy, which is a huge benifit for me. I can't stand the pegs being such a limiting factor when cornering.
Orginal height but lowered 2.25 inches in the rear.
After extensions
Made my own fork covers for the top
This was a stock seat that I bought off a forum member (Thanks again afcop97!!) and cut to make my own solo seat. It didn't come out that bad.
SO no more passenger seat and back rest for now.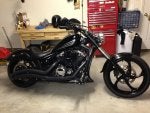 Cost:
Extensions $85
http://www.billskimods.com/products.htm
email only for info about the extensions.
Front Brakeline $50
http://spieglerusa.com/brakes.html
I can get some more pics if needed... just let me know.