Discussion Starter
·
#1
·
Good evening,
Well after 3 years of dealing with stock pipes and one year of Ivan's flash, I finally decided to upgrade the exhaust. It took me that long to decide which of the 7 different pipe combo's I liked the best. The staggs just look the best to me and also I like how it doesn't cover up the rear axle bolt so I can access it with out smacking the heat shields up. I may at some point put a balance tube between the two as that is the only thing missing IMO.
However the road to getting these pipes here without damage has been a living nightmare for me. I decided to use Amazon as my card gives me a year to pay with 0% finance, which is just what I needed to justify buying to the wife! First set showed up in 2 days heat shields all scratched up in the foam protective (and I use this term lightly) wrap from the manufacturer. So took pics sent to seller 98% rating, no problem send them back for refund. The first $525 tied up, So on I went to number two while waiting for a refund to my card. Second set (different seller also 100% rating), was in worse shape than the first, it looked like someone took a grinder to the chrome pipes where the welds were for whatever reason, oh yeah the Muffler heat shields were also scratched up and chipped, again so much for the foam protective wrap. So take pics send them back for a refund, this set cost me $599 so now I have $1124 on my card and still no exhaust
So I call V&H talk to Joe V. told him what my issues are and I do not blame the sellers, but the manufacturing packaging is not shipping friendly at all. Sent him pics of it all. If you ordered a set you know what I mean-I will put a pic up at the end that shows the manufacturer packing quite ridiculous. He tells me when I order the next set if damage is present to first contact him and he will work with me. So I figure three strikes I'm out- Third try another $599, before I buy I contact the seller (again another 100% rating) I sent him pics of past damage and he said he would check it all out before shipping and if it arrives damaged he would still give refund as he could prove that shipping company is to blame. So three days- Third and final try has arrived, I open up the box and see the pipes look good, heat shields on the pipes no damage. The muffler heat shields have small dings/ and one rub mark but the least amount of damage of the three shipments.
So I really don't want to send the whole system back for muffler heat shield damage, so I am awaiting to hear from V&H if they will replace the muffler heat shields for me at no cost and send me a shipping label to return the damaged part, as I have $1723 tied up on pipes and still have damage. I have to say that disappointing in V&H quality packaging.
The bubble wrap is from the seller re-wrapping the product, the white foam adhesive wrap is stock manufacturing.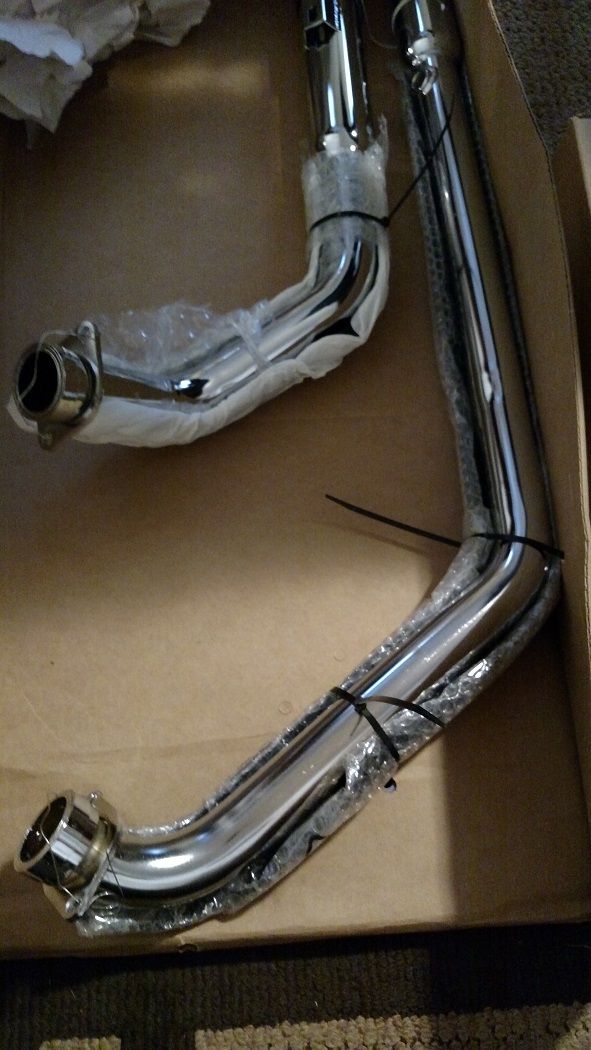 Muffler heat shield damage-(while it is very small, for $6 bills I expect no damage!)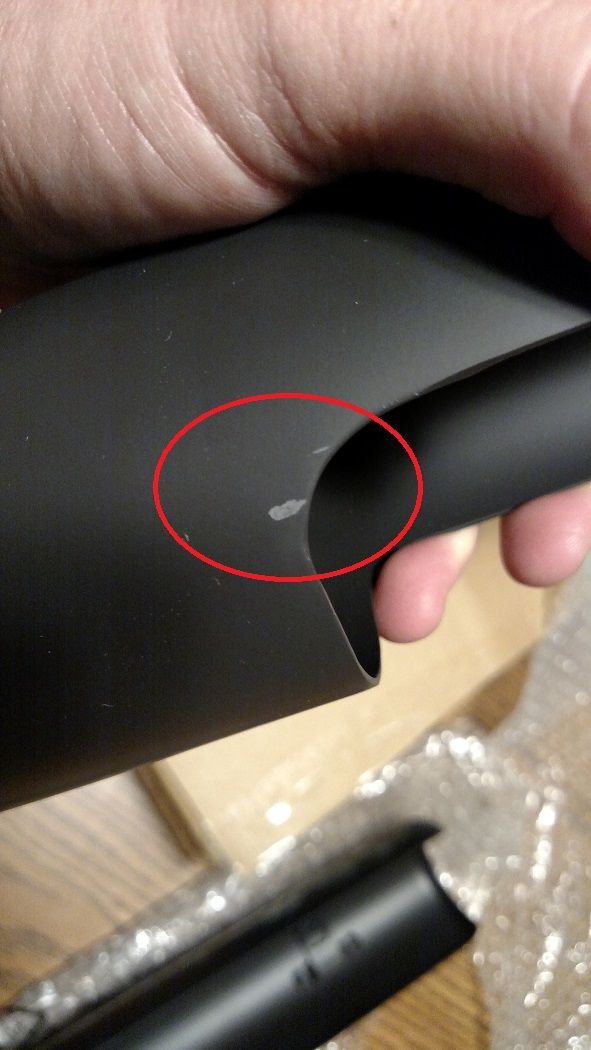 One other thing- I removed the baffles just to see how they get removed and installed and to check how they are wrapped, so when the time comes for rewrapping- I can compare. When I pulled them out they were wrapped with plastic wrap, like saran wrap, I was scratching my head, I contacted V&H again to see if that needs removed because directions said nothing about removing baffles or plastic wrap. BTW- I still don't like the idea. This was there response:
Hello Robert,
Thanks for choosing V&H. Leave the wrap on the baffle during the installation, it keeps the fiberglass intact and makes the install much easier. The film will burn off over the first couple of rides.
Thank you,
Cheyne McNab /
Fuelpak / Customer Service / New Accounts
VANCE & HINES
13861 Rosecrans Ave. Santa Fe Springs, CA 90670